There is nothing better than handmade home decor. Handmade decoration brings a sense of accomplishment and satisfaction in your home.
If you are interested in home decor handmade ideas and porcelain ceramics, you contact us for a masterclass.
Why Handmade Ceramics Are Perfect For Home Decor
Depending on the general layout for your home and color scheme, you can customize your porcelain ceramic to your liking. The shape, design, and colors, it's all up to you as to how you want to make it.
After you make a few ceramic cups, mugs, and plates, you can showcase it in your living room like this. It looks classy elegant, and you can always brag about how you made them yourself!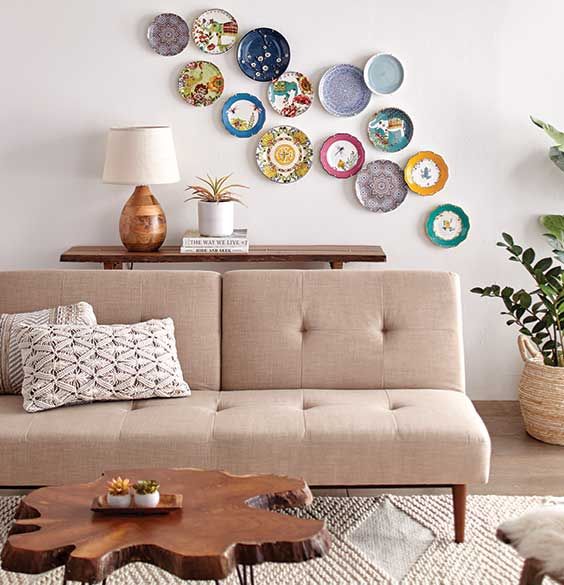 Other Handmade Home Decor Ideas

There are many ways to give your home a personal touch with creative ideas for home decor handmade. One of the easiest ways is to add a few indoor plants. These beauties will not only brighten up a room but they will also purify the air. This is one of the simplest DIY home decor crafts to do. Place several potted plants in clusters in front of blank walls, and use colourful planters to display them.
You can also make your own unique home decor items. Some popular handmade home decor crafts include a quirky gallery wall. You can use random objects, decorative frames, fabric, postcards, and even mismatched objects to decorate the walls. For an additional rustic look, you can also hang a metal mesh grid of Polaroid pictures and make a beautiful, Instagram-worthy display. You can also make a unique and beautiful wall hanging to display your favorite photos.
You can also make beautiful home decor with recycled materials. Old popsicle sticks can be used for different craft ideas. Recycled wine bottles can be used for vases and other home decor. The idea is to create unique pieces that will add flair to your home. These unique pieces will make a great addition to any home. If you have an artistic streak, try to create something using glass or wood. The possibilities are endless!
Swimming For Better Creativity
If you need to inspire your creativity, then swimming can be a great way! A visual designer said:
Competitive swimming is more than a sport – it's my way of surviving the real world. As a visual designer, I understand that the art of taking both sport and design to a new level of perfection requires an open mind. From the starting block to the office, I compete with myself to go beyond boundaries, mentally and physically. Source
Read more about how swimming can help you: all-swimming.com