Identify Your Style
Before you begin decorating your home, you need to have a good understanding of what kind of style and theme you are going for, otherwise, you will end up wasting your time.
What Decoration Piece Will You Need?
If you have not tried ceramics and decorative clay, definitely give it a try. There are many beautiful things you can do with ceramics and clay.
Here are a few ideas: https://www.pinterest.com/justinablakeney/ceramics-pottery/
You can in fact, use well designed and decorated ceramic pots for your flowers and plants if you need some practical use for them.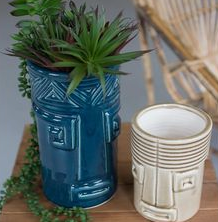 Think Outside The Box
You don't necessarily have to think in limited terms. You can always try different ideas and novel experiences. There are alot of cool things you can do with ceramic cups and pottery.
From using it for your home dishes, you can even make them art for shelves which fill out a room to look homely and welcoming.